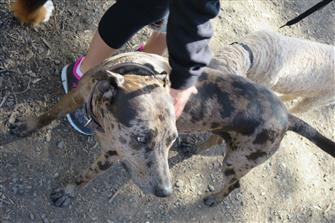 Cur dog TYPE Definition
Some dog sites and books will tell you that there are whole host of cur types of dog and in fact breed. But typically unless the AKC in America recognizes a dog as a distinct breed, it is not.
The types of cur dog breed:
Black Mouth Cur
Blue Lacy
Camus Cur
Canadian Cur
Catahoula Cur (Louisiana)
Kemmer Stock Mountain Cur
Leopard Cur
Mountain View Cur
Original Mountain Cur
Parnell's Carolina Cur
Southern Blackmouth Cur
Stephens Cur
Tennessee Treeing Brindle
Treeing Cur
 The AKC cur dog stance
The AKC site is profoundly bad for searching at the best of times.
Put in CUR, and it comes up with RESULTS such as there is a dog called " American Leopard, American Leopard Cur and Leopard Cur" click on the link and you get nothing.
I have been told that two cur dogs are registered with them ..
The AKC site says TREEING TENNESSEE BRINDLE cur dogs has been recognised since 1995 in the Hound Group designation. " FROM THE JULY 2009 BOARD MEETING – THE TREEING TENNESSEE BRINDLE WAS APPROVED TO COMPETE IN AKC COMPANION EVENTS EFFECTIVE JANUARY 1, 2010."
Most Popular Cur dogs in America
This does not mean they are the most numerous or best at hunting, just that they have the most if scant) information available about them on the internet.
blackmouth cur
mountain cur
CatahoulaCur Dog
So what is it with these cur dogs standards?
Cur dogs are at the cutting edge of hunting. Unfettered by breeding standards they continue to evolve as different hunters and breeders choose what is right for their area.
This obviously can help with inbreeding issues (particularly with the cur as without a national breed club backing them) meaning that there are no standards to keep. But volumes of the dog are unlikely to increase dramatically since they are a pure hunting dog and without a standard are very unlikely to be a companion animal inside or outside of America (except with hunter families). .
How long does it take for a breed to get recognised? Well it mostly depends on who is pushing for it, and who is on the committee to decide what the cur should look like. But that is unlikely to happen for many curs for a very long time.
Consider the case of the American Cockapoo.
Wikipedia says the American cockapoo are a cross between an American cocker spaniel and a poodle. These two are formidable hunting dogs and in theory this should be one of the best bird dogs around. (OK the American cocker spaniel is much less of a hunting dog than the English). But regardless or the difference in that half of the breed, over the last ten years the cockapoo has been on the top 20 dog breeds searched on google – regularly.
The American Cockapoo has been "known in the United States since the 1950s Purebred breed associations such as The Kennel Club, the American Kennel Club, the United Kennel Club, or the Canadian Kennel Club, DO NOT recognize the Cockapoo."
So clearly breed recognition has more to do with politics than reality.
With the cockapoo we have two dog breeds, hundreds of years old, with very stable breed parameters. And a breed only created from these TWO breeds – YET the major Kennel groups will not call the Cockapoo a breed. What do you think the chances are for a CUR dog that is made of maybe ten or so other dog breeds) and is not a major companion dog, even in the USA?